Lots of talk from Washington to the Eastern Sierra about how to save energy and reduce greenhouse gases. A local group has worked patiently and quietly to make a difference here. So far, the High Sierra Energy Foundation has done the work to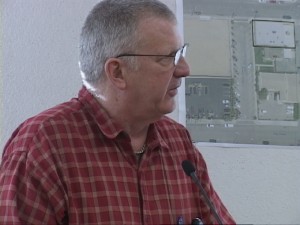 save $600,000 worth of electricity in Mammoth Lakes over three years. Their efforts will now spread to the rest of the Eastern Sierra.
Director of the Foundation, Rick Phelps said that the mission was to promote and development renewables and energy efficiency in the Eastern Sierra. Phelps said that the first of next year, a partnership with Edison will expand into Inyo County. Plus, at a meeting of the Eastern Sierra Council of Governments, officials agreed to apply for stimulus money with the help of the High Sierra Energy Foundation – nearly $200,000 for the two counties.
All these efforts will mean energy and money savings for government and individual. Phelps said the Foundation will keep detailed information on results. More dollars will stay locally in the economy.
Phelps talked about the work of the Foundation. He said, I measure it in terms of creating a culture of energy consciousness or energy efficiency, where if we can get people to think about how they use energy, even in very small ways, when you add that up across the population, you have a very significant result.
Phelps said if you take little steps and you recognize a culture, you think differently. To find out more go to www.highsierraenergy.org.