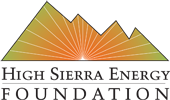 High Sierra Energy Foundation Announced as Energy Upgrade California® Grant Award Winner for Statewide Energy Management Education Program with a $64,000 grant.
Energy Upgrade California announced that 34 community-based organizations across the state have been awarded grants to develop and implement energy management outreach, awareness, and educational programs for communities throughout the state with an emphasis on reaching diverse and underserved populations. These grants are part of Energy Upgrade California's efforts to work with grassroots organizations across the state to educate Californians about the simple steps they can take to better manage energy, save money, and make their homes more comfortable.
"We are looking forward to partnering with these 34 organizations to reach out to Californians on a more personal level to provide them with tools and resources they can use to reduce their energy consumption and save money in the process," Lauri Walker, manager of community ambassadors, Energy Upgrade California said. The community-based organizations that were awarded grants have a strong history of effectively reaching California's diverse communities to effect change through grassroots outreach and engagement programs.
"The grants will help bring the importance of energy management to communities throughout the state," Walker said. "If we all take steps to better conserve and manage energy, our collective efforts will make a big difference as California works to meet energy goals." Grants were awarded to 15 lead agencies that had strong social media capabilities and past experience with successful community outreach to diverse populations, demonstrating the capacity to reach large numbers of community members all throughout California.
With these funds, lead agencies subcontracted with at least one smaller, non-profit agency with the capacity to reach diverse, underserved populations not targeted by the lead agencies. The following community-based organizations were awarded with grants: Lead agencies: Build It Green, Community Services & Employment Training, Inc., Environmental Health Coalition, Fresno EOC, Fresno Metro Ministry, Global Green USA, Great Valley Center, High Sierra Energy Foundation, Redwood Coast Energy Authority, San Francisco Conservation Corps, Sierra Business Council, Southern California Mountains Foundation, StopWaste/Energy Council, The Climate Registry, and the Urban Corps of San Diego County. Subcontractors: Asociacion de Liderazgo Comunitario (ACL), California Interfaith Power & Light, City Heights Community Development Corporation, Community Housing Partnership, Eden I&R, Inc., El Concilio, El Quinto Sol De America, Fourth Sector Strategies, Fresno Center for New Americans, Fresno Interdenominational Refugee Ministries, Friends of the Los Angeles River, Green for All, Hope Through Housing, Humboldt Roller Derby, Inyo Mono Advocates for Community Action (IMACA), Northern California Indian Development Council, Pacoima Beautiful, Westside Family Preservation Services Network, and Young Community Developers.