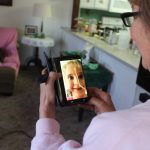 I watched my wife, Sherrie, on her smartphone yesterday afternoon here in Big Pine on a video call with our granddaughters, Ellie and Kinley, who live in San Diego. They were using Google Duo on their mom's iPhone. They were laughing and giggling and talking excitedly…"showing off" as little kids do when "entertaining" grandma and grandpa.
Ellie, who earlier in the day had caught a gopher in their back yard, was excitedly showing "grandma" where she caught it and the cage in which her dad (our son, Justin) had put the little fella. (Unfortunately, the little critter later expired on his own… without assistance.) I'm sure they probably held a funeral for it.  While sad, the video call was a great way to bring the extraordinary adventure and excitement of a 5-year-old into focus as both she and her sister, Kinley, are "stuck at home," which is not as bad as it sounds.
Our son and his wife, Lindsey, both terrific parents, put up an 8-person tent in the backyard for the girls and they excitedly showed us around the inside, of it although the video chat was admittedly a bit jerky in the hands of the 5- and 6-year-old handling the phone. Even so, it was great fun to hear the girls chat, squeal, and laugh as if they had no cares in the world…which is how it should be, even in the current, challenging time we are living.
These two little girls, like millions of other school-aged children, are home as a precaution under the "shelter in place/stay at home" and "social distancing" policies put in place by many schools to prevent the spread of the coronavirus.
The girls have been "video-calling" my wife every day for the past several days. They called today because they received a package from grandma that they had been eagerly awaiting. In the package was a pair of gardening gloves and umbrellas. My wife was every bit as excited to talk and watch the girls as they opened the package. The girls are not the only ones my wife video chats. Her mother, who lives in Los Angeles, also has been using Google Duo, along with her sister in Roll Hills Estates and her brother, Mike, in Tennessee. It's great fun!
So, what exactly is Google Duo? It is very similar to FaceTime video calling on Apple products, but what's different is that Google Duo works on multiple platforms from Android and Windows to Apple iOS products (iPhones and iPads), Mac OS, and Chromebook.
Apple FaceTime only works with Apple products. There are some caveats however on Google Duo:  You need a phone number and a smartphone. Also, whoever you are video-calling needs to install the free app on their device before you can video chat.
Google Duo is one of the best, free high-quality video calling applications available. It was initially developed for Android devices, and it is possible it might already be installed on your Android phone or tablet. There is also a Google Duo app for your Windows PC.
Users from all around the world are using app due to its simplicity and easy to use interface. The call quality provided by the application is incredible. You can keep in touch with your friends, family and coworkers without any hassle, whether they are in the U.S. or out of the country…anywhere there is phone service.
Over the next few days and weeks, we here at Sierra Wave will introduce you to some tech safety tips and programs/apps that you might find helpful in safely navigating the Internet while you are practicing "safe distancing" from home.
If you have any questions or an app or program you would like to share with the community, please let us know in the "Comments" section on our website