HENRY 'LEFTY' BERNARD IRWIN
FEB. 6, 1922 – NOV. 27, 2017
(The following was printed in The Sierra Reader, May 19-25, 2016)
"Lefty" Irwin's handiwork around the Eastern Sierra is very visible, and whether he's helping to build one of the seven fishing platforms for residents, or putting foundations under Boy Scout buildings or helping create public restrooms or building 126 handicap ramps or making personal treasures for the elderly, Lefty's abilities to jump in and make things happen is a trademark in the region.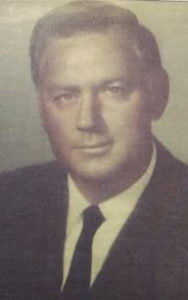 He's a man of action in many aspects of life and he isn't afraid to pick up and finish tough projects either. He was brought up in a time in our country when being self-made meant learning new skill sets during the Great Depression and World War II, when computers didn't exist and men hadn't walked on the moon…yet.
BECOMING LEFTY
A Texan by birth (Edgewood, TX) Lefty's work life started early and at the age of seven, due to an injury, Lefty learned to be a left-handed student in grade school. His high school years were shortened when his father passed away and he went to work with the Civilian Conservation Corp (CCC). It was his work with the CCC and boxing in particular, that earned Lefty his nickname.
Lefty's next line of work took him to a garage in Glendale, CA and it was also the place he met his wife of 74 years, Roberta (Bobbie) Meighan. The couple married in 1942 and soon after Lefty was drafted into the Army. He worked in the Amphibious Engineers program and found himself stationed in Florida, "operating troop and equipment landing boats".
He notes, "after being honorably discharged from the service 1943" he came back to Glendale and began a job with Lockheed, "until the war was over". Lefty opened the L&L Garage in Glendale, CA but later took up a career in plumbing.
He did a lot of the work at the Los Angeles School District and in 1957 had his own plumbing business, H.B. Irwin, Inc. He became the president of the Los Angeles Contractor's Association and he also was an arbitrator for construction disputes.
In the early 1970's, Lefty and Bobbie moved to Bishop, CA. An active member of the Lions Club, Lefty's projects with the other members included many community service accomplishments. Lefty also used his negotiating skills to settle some sewer projects issues in West and North Bishop saving homeowners money.
He also served on the Eastern Sierra Community Service District and helped with its formation. Lefty was elected in 1979 to the Inyo County Board of Supervisors (District 1) and served three terms. No one ran against him in that 12 year span.
"Either no one wants the job or the public must feel that he is doing the job satisfactorily", was Lefty's response.
A "long time desire" of Lefty's was to get his high school diploma and finish what he had missed as a teenager. So, at age 80, he reached that goal, proving you're never too old to obtain a diploma. He also taught hunter safety courses for nearly a decade for the Department of Fish and Game.
Today, Lefty, 94, is making personal objects for the elderly residents in the Owens Valley and he says, "he's thankful for the life he has lead and hopes to be able to contribute to the community for a few more years." The Irwins have five children, nine grandchildren, 10 great grandchildren and one great great grandchild.
Graveside Services will be held on Friday, December 1, 2017 at 11:00 am at East Line Cemetery in Bishop, CA. In lieu of flowers, the family requests donations be made to your favorite charity in his memory.
(Photo and article courtesy of The Sierra Reader).