Press release
The National Park Service is seeking—and may pay up to $1000 for—information leading to the arrest and conviction of the person(s) responsible for stealing equipment and tools at Manzanar National Historic Site between September 20 and 21, 2016.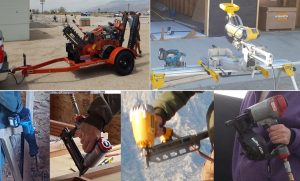 Between 6:30 p.m., Tuesday, September 20, and 6:30 a.m., Wednesday, September 21, unknown persons forcibly entered a locked storage building and stole a trencher, a small trailer, a circular saw and stand, three nail guns, and other power tools valued at more than $19,000. The specific items and models are:
Ditch Witch Walk-Behind Trencher, Model RT24
Ditch Witch Trailer, Model S2B, license plate number I56512T
Makita Reciprocating Saw, Model XRJ03Z
Porter Cable Biscuit Joiner, Model 557
DeWalt Finish Nailer, Model D51275K
DeWalt Full Head Nailer, Model D51845A
DeWalt 12" Compound Sliding Miter Saw, Model DW708
DeWalt 3 HP Router, Model DW625
DeWalt Miter Saw Stand, Model DW723
Milwaukee Hawk Rotary Hammer
Porter Cable Rotary Sander, Model 505
Skillsaw Worm Drive Saw, Model 77
DeWalt Power Planer, Model DW680K
DeWalt ½" Hammer Drill, DW505K
The tools and equipment are regularly used for preservation and maintenance at Manzanar. Their loss will adversely impact important programs and projects at the site.
Anyone with information is encouraged to contact National Park Service Law Enforcement at (760) 786-3260.
###
Manzanar National Historic Site is located at 5001 Hwy. 395, six miles south of Independence, California. For further information on the site, please call (760) 878-2194 ext. 3310, visit the website atwww.nps.gov/manz, or explore our pages for "ManzanarNationalHistoricSite" on Facebook and "ManzanarNPS" Instagram.