Help Save the Still Live Cafe! The well-known and loved French restaurant needs our help!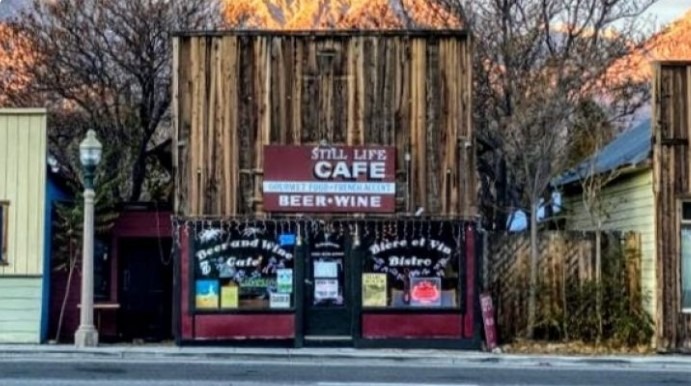 We received a request to pass on information about the recently established GoFundMe campaign for the Still Life Cafe in the town of Independence.  They are trying to raise $30,000 to "stay alive" through the pandemic. If you have ever eaten in this little cafe with its French cuisine, then you know if serves some of the best food to be had in the Eastern Sierra. This pandemic is not just killing people, it's destroying many small businesses.
The Patron family has been coming to the Eastern Sierras since 1987. They fell in love with them and decided to move here in 1993.  After making this beautiful place their new home, they decided to try and really make something special where the community and travelers alike could get together and enjoy their passion for French cooking in the place their family had loved for so long.
According to the Patrons, people questioned their choice, a French restaurant in such a small town, but they knew that others would see what they were trying to do. The business grew over the years as they gained wonderful friends and customers from all over the world.
The restaurant's problems began with the start of COVID-19. Being in such a small town, they have always relied on travelers for a large part of their business, just as many other businesses around here have always done. When traveling stopped, so did a large part of our revenue stream that they used to get through the slow parts of the year and do regular upkeep on their equipment.
The Patrons fell behind without that extra bump, from travelers stop. For example, their walk-in fridge and ceiling is in desperate need of repair and their utility bill has been overdue since March, among other things. Many other businesses in the area received both a PPP loan and a disaster relief loan to help in these tough times, but for some reasons not known to them, they were denied these much-needed funds from the government to stay afloat.
The owners of the Still Life Café know a lot of businesses are struggling right now, but they want to ask if there is any way their community, friends, and friends of friends could help them weather this storm.
If they can get help, they say they could get things repaired and survive long enough to make it to the busy season and get back on their feet. They have dedicated their life and savings into their business and cannot start over as they are much older now.
No one wants to see another small business go under after everything they have all been through. The Patron family is hoping there is a way that you could find it in your heart to donate to their Still Life Cafe GoFundMe campaign to help.