Dear Friends of ICARE,
Linus is a darling stray Terrier mix who was attacked by dogs on July 4th. Inyo County Animal Services transported him to the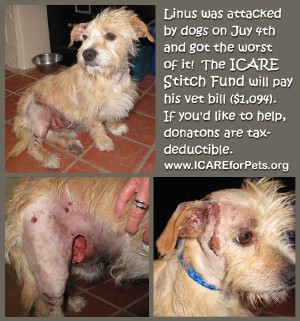 Bishop Veterinary Hospital where he received timely treatment for life-threatening wounds at a cost of $1,094. The ICARE Stitch Fund will pay Linus' vet bill. If you'd like to help, donations to the Stitch Fund are tax-deductible. Mailing address is shown below, or you may donate on-line by visiting the ICARE web site and clicking the PayPal button.
Thank you for your kind consideration of this plea for a deserving Shelter dog in need.
Lisa Schade
ICARE (Inyo County Animal Resources & Education)
P.O. Box 76; Bishop, CA 93515
Telephone: 760-872-3802
www.ICAREforPets.org