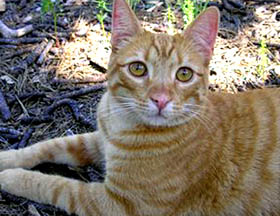 Dear Friends of ICARE,
Oliver (aka Ollie or Ollie Wollie) is an 18-month old neutered male orange tabby cat with a long striped tail and yellow-orange eyes. He was wearing a green harness marked "Sherman" (his owners' former cat), which includes contact phone number 928-776-9709)
Oliver was lost on October 10, 2010 in Bishop, CA at the Paiute Palace Gas Station when his owners stopped for gas on their way back home (Prescott, Arizona). They ended up spending the night searching for him, but had to travel to Arizona the next morning.
However, his owner, Penelope, returned to Bishop with a pet detective and a search dog team for part of the week beginning October 17th. If Ollie is not found at that time, Penelope will travel to Bishop the minute someone finds him. A reward will be offered to the finder.
Feel free to cross-post this e-mail and distribute the attached poster. Let's get this cute lil' guy back home where he belongs.
For the animals,
Lisa Schade
ICARE (Inyo County Animal Resources & Education)
P.O. Box 76; Bishop, CA 93515
Telephone: 760-872-3802
www.ICAREforPets.org