Eastern Sierra Land Trust press release 
Bi-State Sage-Grouse
Volunteer Days!
Friday, September 6th and Saturday, September 7th
8 a.m. – 12 p.m.
Meet at Bodie State Park
Help Eastern Sierra Land Trust care for the land this amazing bird calls home.
Please join us for one or two of our upcoming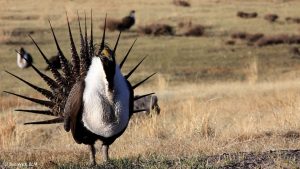 Join us and the Bureau of Land Management on September 6th and 7th as we team up to improve Bi-State sage-grouse habitat near Bodie.
We'll be using hand tools to convert a permanent fence to a let-down fence, along with maintaining other fences in the area.
Let-down fences can lay flat on the ground during peak sage-grouse breeding season, and can be put back upright during grazing season. By helping install this fence, you'll be making sure that sage-grouse, pronghorn, and mule deer can migrate safely!
Thank you for caring for this species!
Here are more specifics for these two days:
Coffee, pastries, and all necessary tools will be provided.
Please bring a hat, closed-toe shoes, a water bottle, and sunscreen.
Please leave your dogs at home.
Driving directions: We'll meet at Bodie State Park each morning at 8 a.m. and end onsite at 12 p.m. From Bishop, drive north on Highway 395 and turn right on Highway 270/Bodie Road. Continue past the guard station at the State Park entrance and meet in the parking lot with the restrooms.
Volunteers available for one or both days are encouraged to attend!
Carpool options are available, please contact Marie for details.
We hope to see you there! For more information or to volunteer, please contact Marie at [email protected] or (760) 873 – 4554.