Helen Louise "Dinkey" Boothe Dixon was born Aug 10, 1918 to Roy and Rose Boothe, in Dinkey Ca. She died peacefully at her home in Bishop, on Feb 3, 2018.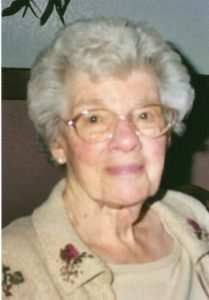 Her family moved to Bishop from North Fork in 1926, when Helen was seven. She attended Bishop schools graduating from BUHS in 1937. She went on to Cosmetology school in Los Angeles, coming home to work in several beauty shops.
In 1943 in Carson City NV, she and high school sweetheart Wilfred C. 'Bud' Dixon, were married. Helen worked cattle with Bud at McGee Creek in the summer for a few years, until starting their family in 1948. Bud hired on with DWP, and their family grew. Helen was a wonderful homemaker and mother to their four daughters.
She had many interests over the years; first and always reading, music, sewing, gardening, painting, bottle hunting, crosswords, learning French and guitar, and traveling. She was very excited to go to Europe with brother Forrest and wife Phyllis. They went on three trips to England, Scotland, France, and Italy. She was always ready to picnic, and her kids and their cousins had many excursions and adventures!
She was a member of St. Timothy's church from the groundbreaking ceremony on, teaching Sunday school, and active in the Altar Guild for over 50 years. Her 2nd family there was a very important part of her life…so many special people over the years.
Helen was a member of the Campfire Girls, Sierra Cowgirls, Jr. Women's Improvement Club, Laws Museum, and an Honorary Thursday Club Babe.
Helen is survived by daughters, Katie Matsu, Mary Jane Dixon, and Dorrie Klug (Bob), and Dorrie's frister, Linda Klug. Grandkids, Gordon Matsu, Jim Dixon, and Kristen Allegranza. Great grandkids, Seichi Matsu and Sophia Allegranza. Nephews, John Boothe, Roy Boothe (Beverly), Ross Boothe and Brad Boothe, nieces, Janet Dougherty (Gert), and Linda Weier (Mike). Great-nephews Jeff Boothe (Brandy), Jordan Boothe (Hillary), great-nieces Susie Dillard (Cronus), Cindy Cimino (Scott), Becky Johnson (Chance), and Amanda Tucker.
She is preceded in death by husband Bud Dixon, daughter Alice Dixon, sister Gladys Kixmiller, brothers and sisters-in-law; Dudley and Alice Boothe, and Forrest and Phyllis Boothe, great nephew Mike Boothe, niece-in-law Jill Kinmont-Boothe, and sons-in-law Bill Matsu and Klause Gierth. These lists are incomplete, as there are many more people and limited space.
Helen will be deeply missed by her many friends and family…Peace be with us all.
The Funeral Service will be held at 10:00 AM Saturday February 17, 2018 at St. Timothy's Anglican Church, 700 Hobson St, Bishop. Graveside Committal will be at East Line St Cemetery, followed by a reception in the Parrish Hall at St. Timothy's. Memorial donations may be made to Laws Museum, St. Timothy's, Wild Iris, or the Braille Institute Books on Tape.