Still about ten feet below the state required level, the waters of Mono Lake will likely rise a bit with this year's heavy runoff. The Executive Director of the Mono Lake Committee, Geoff McQuikin, talked to us about current and required conditions.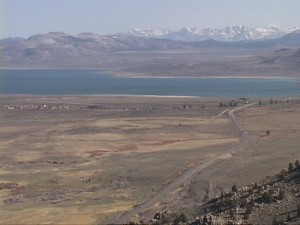 17 years ago, the State Water Board did order the Los Angeles Department of Water and Power to raise the level of Mono Lake to 6392 above sea level and leave a certain amount of water in tributary streams to the lake. The State Board issued that order after ten years of litigation by the Mono Lake Committee and others, including Caltrout. Back then, experts thought the lake level would stabilize at 6392 in about 20 years.
McQuilkin said that this year, with the extra water in the system, the level of Mono Lake will likely go up about 2 feet under the required management level. McQuilkin estimates that by August the level of Mono Lake will reach 6384. Right now the level sits at 6382.6 feet above sea level. This year's rise will still leave 8 feet to go to meet the State order.
In spite of clear victories for the lake level and restoration of the tributary streams, the DWP has still declined to make improvements in the aqueduct system to accommodate needed work on the streams. Even after the stream restoration agreement was signed 14 years ago, LA and the Mono Lake Committee have continued to negotiate.
Interest in Mono Lake remains high. McQuilkin recently spoke to the Mammoth Lions Club about the history of the famous body of water, what the committee does now, about LA's need to improve aqueduct infrastructure and about a new issue – the potential for the State to close the Tufa State Reserve at the lake.