With drainage problems still unaddressed and heavy rains that pounded Mammoth several days in a row, flooding developed in Sierra Valley Estates with erosion and debris in other places.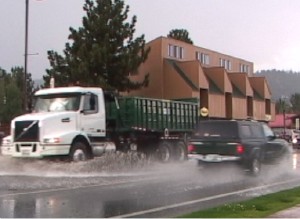 Mammoth Fire responded to help a couple of homes avoid water in their residences. Thom Heller, Division Chief of Mammoth Fire, said that after the fourth of fifth rain storm, the ground could not soak up any more water. Debris plugged up some culverts and some flooding occurred.
Heller said firemen sand-bagged a couple of places and helped homeowners divert water. In some places the culvert system runs in side yards or right up next to homes. Water did manage to seep into one garage and on some businesses on Main St.
When development was planned, impact fees would have been designated for drainage improvements. But the development did not come and the Town has not completely resolved drainage issues. Town Public Works Director Ray Jarvis did a drive-around to check out flooding and erosion. He said he saw more erosion in the slopes and John Muir areas – rocks and debris washed down on roadways. Jarvis said that a couple of years ago, the Town did get money to start a storm drainage management plan. They did get recommendations for a plan, but the money ran out.
"We don't have the money," said Jarvis. He said grant money is frozen and DIF has not come in. Sierra Valley Sites, a low area in Town, does experience problems with poorly maintained water channels that run through the neighborhood.