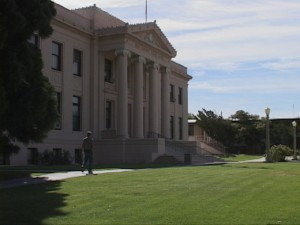 Dawndee and Kenneth Rossy of Bishop appeared for a Superior Court Arraignment last week. They entered pleas of not guilty and denied all allegations filed against them.
They were arraigned on a new complaint that included documents filed after their preliminary hearing. District Attorney Tom Hardy had said that this charging document alleged a total of 213 felony counts against the two defendants. Hardy said, "The new counts all arise from evidence received at the preliminary hearing and set forth additional specific charges alleged to have occurred from 2005 through January, 2013."
Originally, the District Attorney filed allegations of embezzlement of public funds related to the County Welfare Department, identity theft, conspiracy, filing false or no tax returns, and forgery. The new complaint also alleges the filing of false documents in public files as part of the alleged scheme to take welfare funds.
According to Assistant DA Joel Samuels, at the recent arraignment hearing it was determined that Dawndee Rossy will be represented by Attorney Michael Berger. Her husband, Kenneth, remains represented by Attorney Gerard Harvey.
Attorneys in this case also requested that the Administrative Office of the Courts assign one Judge to hear proceedings. Because the two Inyo judges were recused from hearing the case, a number of visiting judges have handled hearings. Assistant DA Samuels said because of the complexities of the case, it was decided one judge should be assigned to the case.
Also at the recent arraignment hearing, Dawndee Rossy's bail was adjusted regarding terms and conditions. She was recently charged with Driving Under the Influence. The new terms include abstinence from alcohol and a requirement for searches and tests for alcohol.
The Rossys are now scheduled for a settlement conference December 19th. Also at that time, Mr. Samuels reported that Attorney Berger says he will file a motion to suppress admissions and statements made by Dawndee Rossy.