Press release
The Friends of the June Lake Library will be hosting an evening history program and book signing this coming Friday August 4th at the June Lake Community Center.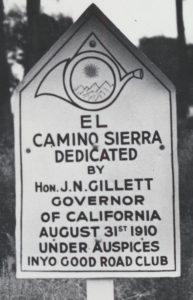 At 5:30 pm, Independence residents David & Gayle Woodruff will be presenting a talk on El Camino Sierra. El Camino Sierra is the name that was given to the first highway that ran through the Eastern Sierra from Mojave to Lake Tahoe, the predecessor of Highway 395. The name was used from 1910 to the 1930s, and was part of a marketing campaign by the Inyo Good Road Club to obtain a portion of the first California State highway construction bonds to help build new auto roads in the Eastern Sierra. The Woodruffs will be showing unique photographs of early automobile travel in the Eastern Sierra, and will talk about the grass roots effort that took place in Inyo and Mono Counties to bring good roads to this area. After the program, the Woodruffs will be signing copies of their new book, Tales Along El Camino Sierra.
The program is free and open to the public. It begins at 5:30pm August 4th, upstairs at the June Lake Community Center, in June Lake. Light refreshments will be served. For more information, you can call 760 920-8061.