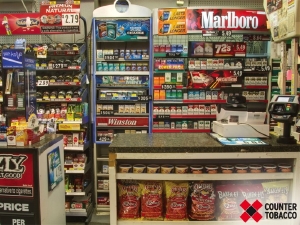 Problems with obesity, tobacco and alcohol remain factors in health issues, and the California Department of Public Health decided to take a look at how retailers focus on these products and how their display might impact customer decisions, especially for teenagers. The goal, officials said, is to reduce tobacco and alcohol-related disease.
Health officials organized press events throughout the State to share the retail survey data. Inyo-Mono Health Officer Dr. Rick Johnson and other local health officials scheduled a phone conference for reporters. To start with, Dr. Johnson went back in time and pointed to the fact that 50 years ago the Surgeon General issued the first report to link smoking and lung cancer and that smoking is still the number one preventable cause of death. Said Johnson, "We still fight a battle with the tobacco industry." He said the goal of the retail survey is to "counteract the effects of the tobacco industry, especially on unsuspecting youth."
The Statewide survey of stores included a look at roughly 30 stores each in Inyo and Mono. Dr. Johnson said the results show a "significant presence of tobacco
products – 83% of stores in Inyo and 72% in Mono." This includes smokeless tobacco and e-cigarettes which were initially marketed as a way to quit smoking but now, Dr. Johnson said, are recognized as a "gateway to tobacco products." E-cigarettes, Johnson said, do contain chemicals including nicotine. He said the manufacturers, which are now owned by major tobacco companies, use flavors and catchy names to attract kids.
The survey in our two counties shows nearly 67% of Inyo stores and 24% of Mono stores have "unhealthy exterior advertising." A little over one-quarter of the stores in both counties display tobacco products near candy at the check-out. Roughly 20% of the stores sell e-cigarettes which are only legally sold to adults 18 and older. 83% of Inyo stores sell chewing tobacco and 80% sell little cigars and cigarillos which are sold individually and flavored. 72% of Mono stores sell chewing tobacco and 58% sell little cigars and cigarillos.
Dr. Johnson said smoking is one issue but alcohol is another big problem. Around 45% of Inyo-Mono 11th graders used alcohol in the last 30 days. That's higher than the State average. Johnson said one-third of the students binge drink, compared to 22% statewide. You can see full survey results on tobacco, alcohol and food for our counties' stores at www.healthystoreshealthycommunity.com.
Nancy Mahannah, Mono Health Promotion Division Manager, and April Eagan of Inyo Prevention Services both spoke of the dangers of e-cigarettes and flavored cigarillos. Kids think they are cool. Mahannah said the FDA banned flavored cigarettes, so the tobacco companies made little cigars and sell them individually.
Cities have begun to impose bans on e-cigarettes similar to other tobacco prohibitions. The Mammoth Town Council considered that move. The Council unanimously moved to bring back language that would include e-cigarettes in the Town's tobacco prohibition ordinance.
Dr. Johnson said it is hoped to make our stores healthier places which do not display products that are unhealthy and most profitable up front. Officials said it's not about telling stores what to do but encouraging them to help customers make healthy choices, especially kids.
The local surveys showed that a good selection of good quality fresh fruits and vegetables are available in nearly 24% of Inyo stores and nearly 67% of Mono stores. Health officials have concerns about selling alcohol near candy or toys and about external alcohol advertising.