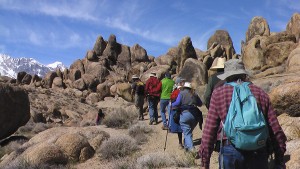 Alabama Hills Stewardship Group – Public Meeting Announcement (press release)
The Alabama Hills Stewardship Group, Inc. will be holding a general membership / public meeting on Tuesday, January 14th, 2014 in Lone Pine regarding the ongoing management of the Alabama Hills recreation area. The meeting will begin at 6 p.m. and take place at the Beverly and Jim Rogers Museum of Lone Pine Film History.
The purpose of the meeting "will be to present stewardship actions completed to date and to discuss future actions proposed for the management of the 'Hills'" said Chris Langley, AHSG, Inc. – President.
This meeting will provide a recap on activities conducted in 2013 and also look ahead to progress/projects planned for 2014.
Anyone interested in learning more about the Alabama Hills or volunteering their time to help with various programs in support of this incredible landscape, should plan to attend. The meeting will last approximately 2 hours.
As always the AHSG, Inc. partner:  the Bureau of Land Management – Bishop Field Office will also be in participating.
For more information, please contact Chris Langley – President (760) 937-1189 or Kevin Mazzu – Vice-President (760) 784-5494