Hazel E. Miller was born July 2, 1923 at Wildrose Death Valley, California. To James Nevears and Minnie Cottonwood. She was a homemaker and lived most of her life on the Big Pine Indian Reservation.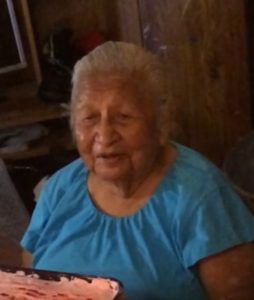 She is survived by her daughters, sons, and spouses; Evelyn Miller, James Miller (Maryetta), Helen Spratt, David Miller, Bryan Miller, and Marion Miller all of Big Pine CA; Lloyd Miller, Idaho; Alvin Miller, Reno, Nevada; and Wilfred Miller (Bridgette) Winterhaven, California. Brother, Ted Cottonwood, Beatty Nevada. Many grandchildren and great grandchildren also survive her.
Hazel passed away June 30, 2017 at Bishop Care Center. Hazel is preceded in death by husband Ira H. Miller and son, William Miller and her brothers Phillip and Charles Cottonwood.
Services will be held at the Alan Spoonhunter Memorial gymnasium, Saturday July 15, 2017 at 10 AM. Pastor Linda Spratt of the Big Pine Pentecostal Light House officiating. Interment at the Big Pine Woodman cemetery. Reception to follow at the Alan Spoonhunter gymnasium.