The sky above the Owens Valley has been hazy lately. While there are small fires that continue to smolder in the Sierra, Sierra Waves weather forecaster Dennis Mattinson says that the haze is smoke from a fire burning north of Santa Barbara and 26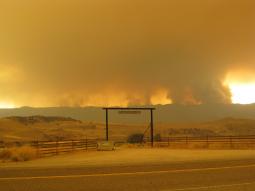 miles east of Santa Maria.
This fire, called the La Brea fire, started Sunday afternoon and has already spread to over 25,000 acres in size. Burning through the brush, grass, oak and pine of the coast range, the fire is listed as having extreme potential to grow. Fire officials say that the La Brea is burning in terrain that has not burned since 1922.
Some of the fire line being used by firefighters is left over from the Zaca Fire that burned over the summer of 2007. The Zaca fire, was the second largest wildfire in state history and sent smoke into the Eastern Sierra on and off over the course of the summer of 2007. How large this new fire grows and how much smoke fills the sky of the Eastern Sierra is yet to be seen. Firefighters list the La Brea Fire at 10% contained.