– Press release
The Hays Street Cafe has been serving breakfast and lunch in Bridgeport for 25 years! The owners, Jeff and Arleen Mills, are retiring from the restaurant business.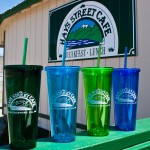 Thank you to all of our wonderful, loyal customers throughout our 25 years of business!
We are retiring from the restaurant business, and will be closing our doors.
Thank you so much to all the people that have supported and recommended us all these years! We are truly grateful. We have met wonderful people that have become our "regulars", and we will truly miss them.
We have raised our children and watched our employees raise their children, and even put them all to work.
We have had the best, most loyal group of employees, with 2 of our cooks being with us for the entire ride! It is truly bittersweet.  But as with everything in our lives, there comes a time where change is necessary.
The cafe is for sale and we really hope that someone will want to continue the wonderful business we have worked so hard to create.  Serving great food to great people, in a beautiful area. For more information: 
www.bridgeportproperties.com
 or call 
760-932-7590
.