Press release
The Town of Mammoth Lakes has installed a High-intensity Activated Crosswalk (HAWK) to improve pedestrian safety at the Minaret Road crosswalk adjacent to The Village. The HAWK signal is a pushbutton-activated pedestrian signal designed to aid pedestrian crossing at a mid-block crosswalk and reduce the amount of delay for vehicles.
Th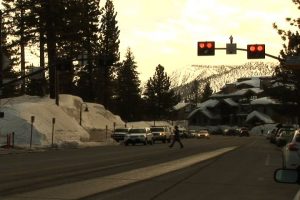 e HAWK signal differs from conventional traffic signals because it only becomes operational when activated by a pedestrian, allowing for normal traffic to flow unimpeded until pedestrians need to cross and minimizes wait time for vehicular traffic. Data suggests the pedestrian activated safety devices led to a 29% reduction in total crashes, a 69% reduction in pedestrian crashes, and a 15% reduction in severe crashes (2010 FHWA before-and-after study).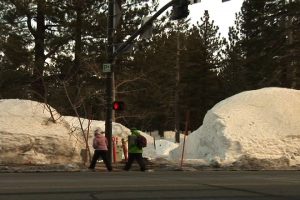 What Drivers Should Know: Pedestrian hybrid beacons are only activated by pedestrians wishing to cross a street press the signal button. If the lights of the beacon are dark, vehicles can proceed through the crosswalk.
Flashing yellow lights usually last around three seconds, during which the driver should prepare to stop. A solid yellow light indicates the driver must stop. Once the light turns red, pedestrians will cross.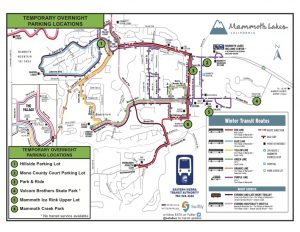 Flashing red lights indicate that if there are no pedestrians in the walk, the driver may proceed through the walk with caution. After the flashing red lights, the signal will go dark again, and vehicles may freely pass through the intersection again.
Additional information may be found at the Town of Mammoth Lakes Offices, 437 Old Mammoth Road, Suite R or on the Town's website.