Long time Owens Valley Resident, Carolyn (Carol) Hastings, went to be with her Savior on December 18, 2015.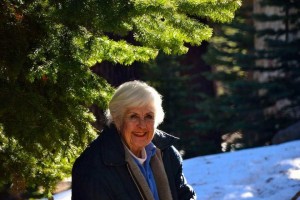 Born in Colorado Springs on July 22, 1926 to Earl M. and Doni C. Plyley. Carol had 3 siblings, Sister Jean and 2 brothers Bill and George. The family moved to Glendale CA in the early 1930's.
While attending Glendale High School, Carol was very active in Glee Club and high School theatre. After graduation her love of music drew her to continued study under Dr. Hirt of Hollywood Presbyterian Church. She and her siblings performed frequently for the USO and anywhere else they could sing together.
Carol and her brother in law Nick were frequently invited to perform at different venues in the Southern California area. Married to William W Hastings after WWII, they had 3 daughters, Kathy, MaryAnn and Vicki.
While employed with Bank of America the family was transferred to the Owens Valley where they lived in both Lone Pine and Bishop. Carolyn was actively involved in 20/30 Club, 4-H, Girl Scouts, Church Choir at the Presbyterian Church in Bishop, and Bridge Clubs just to name a few.
They relocated to Barstow Ca where Carolyn managed a restaurant and enrolled herself in Junior College Art classes where she became an accomplished artist. Her art was displayed in various locations within the community. Carols love of Art, music and horses continued throughout her lifetime.
Finally settling in Bishop they purchased a car rental. Carol managed the business for many years out of both Bishop and Mammoth airports while Bill worked as a Veteran's Service Officer for Inyo County.
After retirement Carol finally had the time to take a more active role in her church at First Presbyterian in Bishop. She directed the choir there for several years.
Carol had a passion for life, her family and everything she involved herself with. She reminded us all everyday how good God was to her and how He always took care of every need. Her greatest passion was her love for her Savior and her family.
Carolyn leaves behind her daughter Kathy, Grand-daughter Erika and husband Marcin and their children Breyana, Daniel, and Josh. Daughter MaryAnn, Grand-daughter Raschelle and husband Chris and their children Jace, Kaia, Hector and Wendy, Grandson Aaron and wife Julie and their sons Blake and Casey, Daughter Vicki and husband Jon, their sons Torey and wife Aimee, daughters Taryn and Dylan, Garrett,wife Josie, Jake and wife Amanda. And 1 great-great grandchild.
Carloyn was preceded in death by her mother and father, sister Jean, and husband Bill.
A Celebration of life ceremony will be held on Saturday January 9, 2016 at 4:00pm First Presbyterian Church.