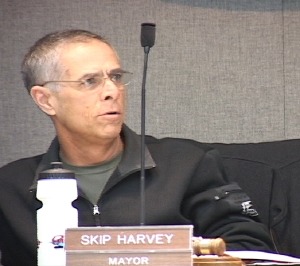 Incumbent Mammoth Town Councilman Skip Harvey decided at the last minute that he would not seek re-election to the Town Council.  Two others have filed for two available seats with, now, an extended deadline for further filings.
Earlier, Harvey had said he would run again.  He stated that his treatments for cancer would not stand in the way of his running for and serving in political office.  When Harvey had not filed by Thursday afternoon, with the deadline on Friday, we contacted him.
On Friday, Harvey said confirmed that he would not run for office.  He said only that he had decided to return to "the lifestyle of a restaurant owner."  Harvey owns and operates Base Camp Cafe.  His decision comes at a time in which the Town of Mammoth struggles under the dark burden of a $42 million court judgment debt and severe budget problems.
As of Friday, Mayor Jo Bacon had filed papers to seek re-election and Michael Raimondo, owner of New York Deli in Mammoth, had also filed to run for a Town Council seat.  Since Harvey, an incumbent, did not file, the March 9 deadline to file has been extended to Wednesday, March 14 at 5pm.
Will anyone else come forward?  As one Mammoth resident said, "Who wants to jump into a briar patch?"