Former Inyo Public Defender Gerard Harvey was scheduled for court Friday for further arraignment. Harvey faces 5 felony charges.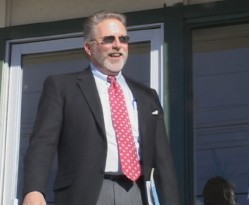 Attorney Tom Hardy was appointed by the court to represent Harvey. The District Attorney's office had filed three charges of witness intimidation, one felony count of making criminal threats, and one felony county of threatening a witness who provided assistance to a law enforcement officer and public prosecutor in a criminal court proceeding.
Harvey's public defender contract was cancelled after his arrests on these charges.
Meanwhile, in Mammoth Traffic Court, Harvey faced traffic violations of allegedly throwing a lighte4d cigarette out of a moving vehicle and failure to appear.