The public is invited to the second annual Eastern California Museum Harvest Heritage Day, which will feature free food and drink, live music, homemade baked goods, samples of local, fresh garden produce, historical displays and programs, and, of course, the famous "dressed vegetable" display. New this year will be a vintage engine display provided by the Laws Railroad Museum volunteers.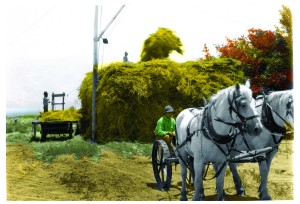 Harvest Heritage Day: Celebrating Autumn in the Owens Valley will be held on Saturday, Oct. 29, from 1 p.m. to 5 p.m. at the Eastern California Museum, 155 N. Grant St., in Independence (three blocks west of the historic courthouse).
The public is encouraged to participate by bringing veggie- or fruit-themed baked goods (zucchini or carrot cake, for example, or apple or peach cobblers). All those baked goods will become part of the "Autumn Harvest Bake-Off Competition," with the winners and all other entries being eaten on the spot. Also needed for display and possible chewing, are items grown in local gardens for the "Garden to Table" table, which will feature fruits and vegetables, and homemade items such as jams, jellies and relishes.
One of the more unique aspects of the event will be the "dressed vegetable" display, which was a big hit last year. Local gardeners can bring their large vegetables, such as squash or zucchini, and dress them up in festive clothing, all for fun. Members of the Independence Civic Club have already volunteered to bring their "dressed vegetables" to the event, and will help "dress" whatever vegetables, and even fruits that show up.
Adding an all-American touch to the day's food theme will be free hot dogs and chips (come on, how many veggies can you eat in one afternoon without some "real food"), and popular local band, Sandy and the High Country, will be entertaining. Kids will be entertained by a variety of crafts and games.
New this year will be the volunteer crew from Laws which will bring small engines and gadgets down and crank them up or fire them up or steam them up, depending on the gadget in question. Other historical displays and programs will be featured in the Museum during the day.
Call the Museum at 760-878-0258 for more information about Harvest Heritage Day, or for suggestions about what food and fruits and vegetables to bring to show off and share, or how to volunteer to help.