HARRY MARCELLUS HURDLE, JR.
1932 – 2017
"Grief never ends, but it changes. It's a passage, not a place to stay. Grief is not a sign of weakness, nor a lack of faith, it's the price of love" – Unknown
Harry Marcellus Hurdle, Jr passed away at home with his wife and daughters at his side on Saturday, January 21, 2017 after a year long battle with Multiple Myeloma. Harry was born on September 6, 1932 in Baltimore, MD to Harry Marcellus Hurdle, Sr. and Florence Doederlein Hurdle, joining big sister, Lois Ellen.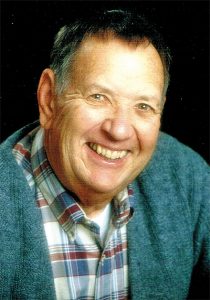 Harry attended grade school in Baltimore and the Baltimore Polytechnic Institute, an all boys high school that appealed to his inquisitive, mathematical mind. He graduated in 1950 and after taking time to have some fun, started working at Catspaw.
In 1952 Harry, along with his mother and father, moved to California to be closer to Lois who lived there with her husband and son. On April 3, 1953 he was drafted into the Army during the Korean conflict. He took basic training at Fort Ord and from there was sent to Fort Lewis, Washington.
The young US Army Infantryman, MOS 1745, was part of a Company to take cold weather training on Mt. Rainier at the beginning of winter for 2 weeks then on to Alaska to see if a Company with such little cold weather training could function effectively in the Alaskan winter. Harry was the number one BAR man for his squad as they walked through Denali, up across Big Delta and on to Elmendorf AFB due to most of the rolling stock failing because of extreme cold.
He was honorably discharged on April 1, 1955 and returned to his home in the San Fernando Valley in California where he went to work for Lockheed Aircraft in Burbank as a riveter working on the Constellation. It was there that he met and married his first wife, Thalia Sorgi.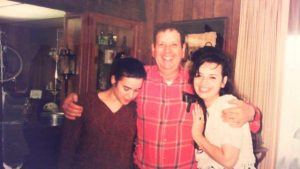 He learned that Lockheed Missiles and Space Company at Vandenberg AFB was hiring and paying to move new employees to the town of Lompoc, CA which is located between San Luis Obispo and Santa Barbara. There, three daughters were born, Cynthia, Lisa and Catherine, and Harry began what would become a 28 year career, starting as a technician installing camera equipment into payloads of early missiles being launched at Vandenberg.
In the late 1960's he was promoted and began his career as an Industrial Safety and Hygiene Engineer where he worked closely with the Air Force on various launch complexes. In 1973 he met his future wife and love of his life, Becky, who had come to Vandenberg after working for Lockheed in Sunnyvale, CA. They were married in 1979 and they began their life together and Harry introduced her to the Owens Valley. Harry was the only member of the Safety office for Lockheed and Martin who successfully passed both the Core and Comprehensive examinations to become a Certified Safety Professional.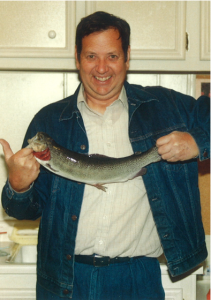 April 18, 1986 was a defining day in his life, as well to his wife, Becky's. That morning, just 3 months after the Challenger tragedy, a Titan 34D blew up 7 seconds after lift off from Space Launch Complex 4 East at Vandenberg. It was 45 agonizing minutes for Becky waiting to hear and finally word came that everyone in the blockhouse was alive and okay.
Very soon after, Becky reminded Harry of the "Early Retirement Package" that was being talked about and in 1987 they wrote out their plan of action to retire early and began their journey in making a dream come true, to live in the Owens Valley. This dream came true on July 1, 1989 when they moved to Big Pine, CA. Harry was able to live his dream from that day, enjoying all the things he loved including fishing, target shooting, archery and working in his infamous garage which served as his machine shop for many of his own projects as well as many others for his friends and neighbors.
Harry was preceded in death by his parents, sister, Lois Hollister and brother in law, Myron Hollister. Harry is survived by his wife and true love of 37 years, Becky; his three daughters who all followed he and Becky to live in the Owens Valley, Cynthia Hurdle, Lisa Trunnell and Catherine Hurdle; four grandchildren, Rochelle Evans of Montana; Michael Sampietro of Bishop, CA; Joshua Sampietro of Chico, CA and Kiera Sampietro of Crescent City, CA; four Great grandchildren, Orion Nash, Wyatt Sampietro and Juliette and Jace Evans; nephew; Brent Hollister of North Hills, CA and niece, Nancy Hollister of Capistrano Beach, CA; cousins, Marguerite Serio of NM, Patricia Evering of Baltimore, MD, Helen Bathgate of Baltimore, MD, Ralph and Evelyn Kadan of Baltimore, MD and his two beloved dogs, "Labramations", Lexi and Alissa.
The family would like to thank Dr. Manish Pandya, Dr. Anne Gaisor and Dan David as well as many friends and neighbors for all their caring and support during this difficult time. In lieu of flowers, the family requests donations be made to either the Big Pine Fire Department or ICARE in memory of Harry.
Services will be held on Saturday, January 28 at 11am at Brune Mortuary Chapel, 325 W. Elm, Bishop, CA. Burial will follow at East Line Street Cemetery in Bishop.