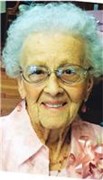 Harriet E. Stone passed away peacefully on October 28, 2019 at age 99. Harriet was born April 6, 1920, to her parents Ernest and Hulda Ulrich, in Happy Valley, Oregon.
The Ulrich family, father and mother and their 5 children left Oregon in August of 1926 and moved to Santa Ana, in southern California, where the father worked on a citrus ranch. Harriet graduated from Tustin High School in 1936, and married her high school sweetheart Cleo "Rocky" Stone, who preceded her in death in 2010.
Harriet's childhood memories are many, involving swimming, sewing, cooking, and travel with family. During high school she excelled in all womens sports, especially field hockey. When Rocky's job transferred him to Bishop in 1968, Harriet took a job at Union Carbide. When that company went out of business, she went to work for Penny's, and later took a position at the Inyo National Forest where she worked until retirement.
She enjoyed bowling, once rolled a 299 in league play, and was a member of the Bishop Country Club for many years, playing golf with the Ladies Club into her 90's. She was an avid card player, enjoying gin rummy and other games. Outdoor activities were a major part of her life, hiking in the Sierras, travelling with Rocky and church friends to various locations throughout the western part of the country in their truck and camper. Maui was a favorite vacationing spot with family over the years as well.
She made friends easily, and was always ready to lend a helping hand in any situation. Her friendships were many and long-standing.
She was very proud of her children, grandchildren, and great-grandchildren, and enjoyed keeping up with all their activities over the years.
She was a strong Christian, having served as Elder in the local Presbyterian Church, as well as serving on numerous committees over the years.
Surviving relatives include, sons Ronald and wife Cheryl of Bishop, Philip and wife Pam of Edmonds, Washington, Gerald and wife Victoria of Healdsburg, California, and daughter Dorothy Feeney and husband William, of Newport Beach, California.