Harold Miller
1932-2015
Hal passed away Tuesday April 21st after a prolonged battle with Prostate Cancer.
He was born May 13, 1932 in Ottawa, Ilinois the son of Marie and William Miller.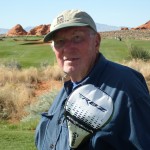 Hal worked many years in Los Angeles for Armored Transport Company where he worked as a security guard. His most celebrated clients include the 1984 Los Angeles Olympics, and the Los Angeles Dodgers where he got to know the Walter Alston and Tommy Lasorda and other members of the front office.
Hal moved to Bishop from Woodland Hills, CA with his wife LaDonna in October of 1990, and he worked 16 years for Inyo Mono Transit as a bus driver. Hal enjoyed talking with the local residents on his route and helping them along on their daily routines.
He enjoyed fishing, camping, and boating. He moved to Bishop for his love of the outdoors. Hal was known for his kindred spirit and his ability to get along with everyone.
He is survived by his son Karl Miller of Los Gatos, CA, Larry Miller of Minden, NV, and Barbara Hack of Dana Point, CA. He has five grandchildren.
A ceremony open to the public will be held at Brune Mortuary in Bishop at 11am on May 9, 2015.