Harmey Jefferson Bancroft loved life, but he loved his friends and family more.  His friends were considered family to Harmey.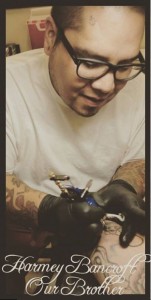 Harmey was born in Cortez, Colorado on July 15, 1979, to Kathy Jefferson Bancroft and Frank Williams Bancroft of Towaoc, Colorado. He was the Grandson of Tom and Barbara Jefferson of Lone Pine, California and Speer and Mary Bancroft of Towaoc, Colorado.
His brother, Franco Bancroft, was born 15 months before him and they remained extremely close throughout his life.  The pride and purpose of his life was his daughter, Rosalynn Drai Bancroft, who was able to be with him for almost the first two years of her life.
Harmey is also survived by several other half brothers and sisters, including Mackey Bancroft of Shiprock, New Mexico; Donna Bancroft and Francilla Bancroft of Towaoc, Colorado, Ellen Bancroft Gurule of Albuquerque, New Mexico; Gloria Bancroft and Mary Bancroft of Oklahoma.
He is also survived by uncles Keen Richards of Ignacio, Colorado and Mike and Robert Morgan of Bishop, California.  Aunt and Uncle, Susan and Donald Bobb of Lone Pine, California and Schurz, Nevada played a large part in raising him.  Niece and nephew, Raegan and Jesse Bancroft, and cousins,  Decora Bancroft,  and Amanda, Danielle and Norman Bobb were very close and important to Harmey.
He had an almost countless number of other cousins, aunts and uncles which he remained in contact with, no matter where he lived.
Harmey grew up on the Lone Pine Paiute-Shoshone Reservation and the back country of the Sierra Nevada Mountain Range.  He had many professions, including packing mules in the Sierra, doing construction in Colorado, writing songs and playing guitar in several bands in Montana and California.
But art was always the love of his life.  He was accomplished in many forms of media and sold his first piece while still in high school for $100.  Harmey learned and worked as a tattoo artist, eventually opening his own shop, Gypsy King Tattoo, in Bishop California in 2013.
There will be a Cry Dance for Harmey Bancroft on the Lone Pine Paiute-Shoshone Reservation community grounds on Friday night, August 28th.  Graveside services will be held at the Lone Pine Cemetery at 11 am on Saturday, followed by gathering of family, friends, food and fun at the LPPSR Community grounds, 975 Teya Rd.