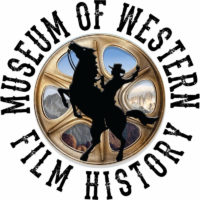 While COVID-19 has impacted all during the last two years, Museums across the country have been hit hard by limited travel of consumers. For Inyo County, the decline in Highway 395 traffic has effected many of the mainstream businesses including our Museum of Western Film History in Lone Pine. The Museum shuttered briefly in 2020, but found an opportunity as others to reach its community and supporters online.
The October, Lone Pine Film Festival, an annual tradition since 1990 celebrating over 500 films shot in the Lone Pine area and Eastern Sierra over 30 years, may not have taken place in the Alabama Hills, but found its audience in providing an Online Film Festival, titled, "Western Watch Party" and featured the World Premiere of the 4K restoration of Mackintosh & T.J., starring Roy Rogers, in cooperation with Visual Data Media Services.
The Line Up included many Western Classic films as well as online presentations with; Cheryl Rogers Barnett, Larry Maurice, Rob Word, William Wellman, Jr., Jay Dee Witney, and Lone Pine's Alabama Hills movie location tours. It was not the usual film festival, but a large supportive online audience kept the tradition alive from the comfort of their own living rooms.
But, as the Roy Rogers and Dale Evans song says, "Happy Trails" … are now in the future.
Summer 2022, finds the museum open seven days a week and visitor count growing weekly. Museum exhibits have been tidied up and the oohs and aahs of western film fans are echoing through the museum with the background sounds of the Singing Cowboys, Roy Rogers, Gene Autry and the Sons of the Pioneers. The silver screen ghosts of John Wayne, Randolph Scott, Tom Mix and others join in the celebration of many, remembering their favorite Saturday morning matinees and sharing stories of their youth with children and grandchildren.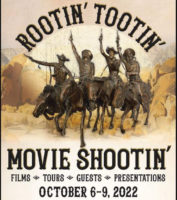 On the heels of the most successful Concert in the Rocks this past June; now comes the planning for the October 2022, Lone Pine Film Festival. Themed, Rootin' Tootin' Movie Shootin', this year's 32nd roundup will screen great Western Films, feature topical panels & presentations with Hollywood personalities, feature a western stunt show, art in the park, and as always, include Lone Pine's exclusive, movie location tours.
As the Museum moves into new Post COVID-19 opportunities, it is looking for a new "Trail Boss" to lead the way. I guess in the traditional museum world, this would be called a Museum Director. The Museum Board is seeking a professional manager; a community minded, strategic leader with administrative, financial and operational skills, as well as fundraising,  communications and marketing experience to pioneer the museum in this new world of social media.
A background with non-profits is a plus. Knowing how to Rope and Ride, well that's a different job description!
A full job description can be acquired by contacting: