Press release
In 1928, times were changing quickly in the Owens Valley. Many farmers and ranchers had sold their land and water to the city of Los Angeles. Several businesses had closed, and people were leaving the Owens Valley in droves. A concerned group of pioneer Eastern Sierra residents became alarmed that the departure of so many of their friends and neighbors, would bring about the resulting loss of the area's documented history. They felt something needed to be done to preserve the region's history.
On May 5, 1928, Mrs. W.C. Parcher, Charles Forbes, Walter Dow and several others, formed the Eastern California Museum Association, whose purpose was to collect, house, protect, preserve, and classify objects and natural landmarks of historic and scientific interest found in Eastern California and adjacent fields. The Eastern California Museum has been dutifully serving its community ever since, and on Saturday May 5, it will be hosting its 90th anniversary celebration.
The day long event starts at the Eastern California Museum at 10:30 a.m. with a walking tour of historic Independence. Starting at 11 and running until 3pm, local historians will present six separate snippets of Eastern California history, from railroading in the Owens Valley to the nearly forgotten community of Thebe (pronounced Theeb).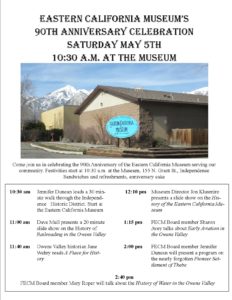 There will also be light refreshments, birthday cake and keepsake postcards to mark the special day events.
So mark your calendar for Saturday May 5th… for the Eastern California Museum 90th anniversary celebration in Independence. For more information you can call David at 760 920-8061