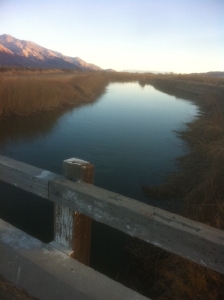 The Department of Water and Power's commemorative event celebrating 100 years of the Los Angles Aqueduct might be called good news – bad news. The Owens Valley water literally built LA and left the Valley much drier with no growth. It's all how you look at it.
Friday afternoon, Los Angeles officials and others planned to head to the Eastern California Museum in Independence to hear DWP officials talk and to munch on hors'doeuvres.
This gala event is apparently the only planned celebration of the aqueduct's centennial. In recent days, members of the Bishop Paiute Tribe had protested celebrating the aqueduct in a demonstration in front of Vons in Bishop.
Friday, officials of Inyo and LA will meet in a Standing Committee session before they head to the museum where it is possible LA may reveal a special plaque intended for the aqueduct intake.
The Standing Committee meeting will start at 11am Friday in the Supervisors' Board Room in Independence. Officials will touch on pumping, the Lower Owens River, Owens Lake groundwater evaluation and other issues. They will head over to the museum at 12:30. The event is open to the public and is expected to last for an hour and a half.
Even as LADWP puts on a party face, Inyo County grinds through LA's continued resistance to accept groundwater pumping realities and Stan Matlick of Bishop points to LA pumps in Bishop as "stealing water," he said.