Hans J Kliks passed away peacefully on October 3, 2018 surrounded by his loved ones. Hans was born July 26, 1934 in Berlin Germany.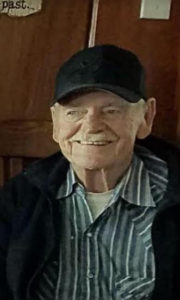 Hans was a strong, happy man with a passion for family. He had a love for life and put a smile on everyone's face. He knew his Lord and was not afraid to go home. He loved his children, but he lived for his grandchildren and great-grandchildren.
Hans moved from Germany to Canada in his mid-20's. Not knowing any English he found odd jobs here and there and eventually got into the mining business. In 1964, he and a few close friends moved to Bishop, CA after hearing about the opportunities with Union Carbide. Hans worked for the mill in various positions retiring as a Mill Foreman after 35 years.
Hans was preceded in death by his parents, Harald Kliks and Elisabeth Fischer, His sons Lou, Larry and Lenny Hahaj and his daughter Vicky Prescott.
Hans is survived by his Brother Harald Kliks and his wife Karina, his son Lance Hahaj his wife Sherry, his son Chris Kliks, his wife Raschelle, his daughter Kristiana Kliks and numerous grandchildren, great-grandchildren, nieces and nephews and friends.
Services will be held at the First Baptist Church, 293 Chestnut St, Big Pine CA Saturday, Oct. 20 at 1:00pm, with graveside service immediately following at the East line St Cemetery. A reception and celebration of life will be held at the Bishop Fair Grounds, Patio Building.