Press release
Mammoth Lakes, CA. – Mammoth Lakes Repertory Theatre's (MLRT) Artistic Director Shira Dubrovner is thrilled to announce that Jason Petty is bringing his one-man Hank Williams show to the Eastern Sierra for two nights only, June 21st and 22nd at the Edison Theatre. Jason Petty brings Hank Williams' music and story alive in Hank Williams:  The Lonesome Tour with insights told through stories and music. This is the way Hank Williams music was meant to be heard.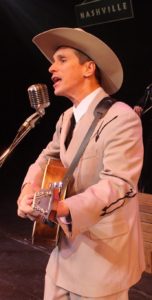 "It's exciting to have someone of Jason's talent and credits hear about our theatre and propose presenting his show on our stage," stated Dubrovner.  Petty plays acoustic guitar and, within the intimate set, tells the story of one of Country Music's greatest legends with wit, wisdom and reflective humor. All of the legendary songs are included such as "Jambalaya", "Your Cheatin' Heart", "Hey Good Lookin", "Move It On Over", "I Saw The Light" and many more.
Jason Petty has always been a country soul. Born and raised in the small middle Tennessee town of Manchester, he began spending a lot of time on his grandparents' farm in Hickman County, TN, after his Mother's sudden passing when he was only 7. His Grandmother, Fannie Mayberry, would swing on the front porch and shell peas while singing 'Blessed Assurance.' His Grandfather, Dan, let him ride on the tractor with him while plowing and would sing Hank Williams' songs to him. The very first song Jason remembers hearing is when his Dad, James Petty, sang 'Hey Good Lookin' to him on a car ride back home from visiting his grandparents' house. Jason was hooked. 
He had been singing in church choir when one of his fellow choir members told him he should audition for Opryland in Nashville. Jason did and the rest, they say, is history.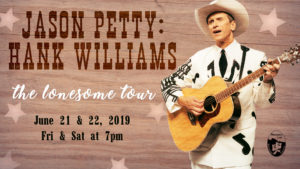 While at Opryland, Jason was asked to perform on the Grand Ole Opry and was first introduced onto that hallowed stage by the King of Country Music, Roy Acuff. Jason then starred in a national tour and a few regional theatre productions of 'Lost Highway' and the show went to New York City in 2002, it began a 6-week run Off Broadway. The reviews were off the charts and the run was extended for another 7 months. Jason won the coveted Obie Award for his portrayal of Hank.  After completing seven (7) straight years of touring with 'Lost Highway', Jason decided to write his own show about the legendary performer based upon all the people he met and befriended who knew Hank and shared their stories with Jason. 
Hey, good lookin', join us June 21 and 22 at the Edison Theatre for Hank Williams: The Lonesome Tour and feel as if you've traveled back in time and met Hank Williams himself.
​FACT SHEET:
WHO: Mammoth Lakes Repertory Theatre
WHAT: Hank Williams: The Lonesome Tour starring Jason Petty
WHEN: Friday June 21st and Saturday June 22nd at 7:00 pm
WHERE: Edison Theatre, 100 College Parkway, Mammoth Lakes, CA 93546
COST: $20/$18/$10 Adults/Seniors/Children in advance; $22 at the door – no discounts
RESERVE TICKETS: www.MammothLakesRepertoryTheatre.org
The Mammoth Lakes Foundation offers both free education (books and tuition) to any Mono County resident and/or high school graduate who pursues an AA degree at Cerro Coso Community College and                                    year-round theatre programming at Edison Theatre. For more information or to make a tax-deductible donation to the theatre or to the Foundation, please contact Shira Dubrovner at 760.934.6592, the Foundation office at 760.934.3781 or visit MammothLakesFoundation.org.
Our nonprofit work is only possible through your generosity.