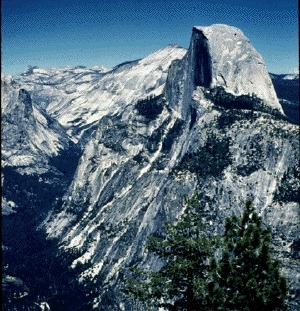 300 hikers a day seems like a lot, but in Yosemite that's actually the newly finalized limit on those who want to hike up the famous Half Dome.
An interim plan in place since 2010 had limited the number of Half Dome hiker permits to 400 a day with the effort to limit actual hikers on the trail to 300 per day. Prior to that, the number had climbed as high as 1200 hikers per day who sought permits. National Park officials said congestion made it difficult for people to descend the granite monolith. Rescues increased, particularly during afternoon storms.
So, after more than two years of the 300 hiker limit, the Park Service made it final. Officials also decided last Friday to keep in place the heavy metal cables drilled into the Dome which hikers use to steady themselves on the 45-degree final climb. Environmental groups argued that Half Dome is in a wilderness area where handrails do not belong. In 1919, the Sierra Club had installed the cables. For safety reasons, they will stay.
In addition to the 400 permits per day for Half Dome and the March lottery, the Park Service has allowed a secondary lottery two days in advance of a hike for those who travel spontaneously. So, if there are no-shows or cancellations, the permits can be quickly turned around.