– Review submitted by John Louth and Nancy Upham
As the curtain comes down on the first weekend of the Playhouse 395 production of Guys and Dolls the reviews are in – a rousing good time was had by all, both on and off stage.  Gamblers struggled to find a spot to hold their illicit dice game, the cops were on their tail, missionaries were trying to save their souls, and a marriage proposal hung in the air.  Theatergoers truly got their money's worth with 3 hours of entertainment and abundant opportunities for laughter.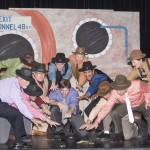 The audience gets drawn in as the likes of Nathan Detroit, Big Jule, Harry the Horse and Adelaide and her Hot Box girls sing, dance and con their way across the stage, all the while becoming intertwined with the Save-A-Soul missionaries.  The production, three months in the making, is a community-wide effort directed by veteran Playhouse 395 director David Hardin.  Mark Hatter conducts the live orchestra providing the musical background for songs and dance routines choreographed by GiGi Van der Riet.  On stage a multitude of veteran actors and plenty of newcomers grace the stage with their well-honed performances.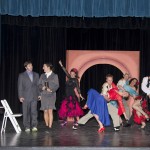 The story is set in the early 1940's and centers around a bunch of shady New York characters with a weakness for dice games.  Their leader, Nathan Detroit, played by Cristian Herrera, continually struggles to find a location for their next dice game while at the same time continually stringing along Adelaide, his girlfriend of 14 years, played by Megan Hammitt.  Young missionary Sarah Brown, played by Allison Peeler, meanwhile struggles to find ways to keep her mission post open by enticing local sinners to "follow the fold", which in an interesting twist, finds her on a dinner date in Havana with high rolling gambler Sky Masterson,  played by Phillip Traver.
The play is a rollicking fun 3 hours of singing, dancing and acting showcasing some of the Owens Valley's finest acting talent.  Director Hardin commented that he continues to be astounded by the quality of actors in our community.  They are nurses, teachers, cobblers, attorneys, butchers, bakers, students, retired police officers and forest rangers, just about every other profession you can imagine, yet "they all have the dedication and passion to rehearse in the evening for three months and then perform nine full length shows before it all wraps up."
You don't want to miss one of the most fun-filled performances of a classic musical to come to the stage here in Bishop.   The play continues for the next two weekends at the Bishop Union High School theatre.  Shows are scheduled for Friday and Saturday evenings with matinees on Sunday April 19 and Saturday April 25.
Director Hardin reminds showgoers of the unique opportunity to have a cameo appearance on stage.    During each performance two lucky people who have dressed in 1940's style will be chosen to be on the stage as patrons in a nightclub scene.  What an opportunity!
Tickets are available at www.playhouse395.com or by calling 800-838-3006, ext.1.  Information is also available by calling Playhouse 395 at 760-920-9100.