In Inyo County court news- On Tuesday, the jury reached a verdict in the case against Big Pine residents James Williams and Mitchell David. The two men were charged with assault with force likely to cause great bodily injury and battery with serious bodily injury after an incident on New Years Eve.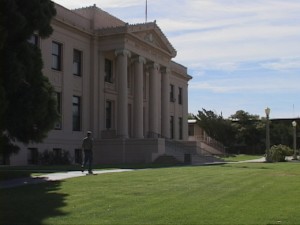 Assistant District Attorney Mark Johnson reports that the two are alleged to have gone to the Big Pine Residence of Johnny Shoshone and assaulted the man. Johnson reports that Shoshone suffered a broken leg as a result of the incident.
The trial was scheduled to start on August 22, but a conflict of interest that involved former public defender Gerard Harvey, who had represented each of the defendants at different times, led to the delay. That issue was resolved and the case went to trial last week.
Assistant DA Johnson reports that the jury found both Williams and David guilty of the assault with great bodily injury, but not guilty on the battery with great bodily injury. Johnson says that Williams could face up to four years in prison. Prior convictions could lead to a longer term for Mitchell David. Johnson explained that David is alleged to have a prior strike which could double the base term. He is also alleged to have been in prison before, which could add another year, for a possible total of 9 years in prison, according to Johnson.