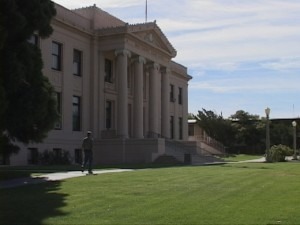 Inyo County maintains that it is a bad day at Black Rock – that's the area near Black Rock Fish Hatchery where Inyo says the Los Angeles Department of Water and Power has done significant damage to plants through too much groundwater pumping.  Inyo has initiated a formal dispute under the Long Term Water Agreement.
Inyo County Counsel Randy Keller said that LADWP has had Inyo's report on Black Rock for a year and a half and failed to respond.  So, Inyo started a formal dispute.  At a recent Inyo-LA Technical Group meeting, DWP refused to vote on the matter.  The issue will continue to go before the Technical Group and likely the Standing Committee in August.
Keller said LA has been "dragging its feet."  Inyo would like to see something in writing from LA on its position.  Keller said that Inyo "needs to enforce the Agreement through its procedures."  Dispute resolution is one of those processes.
It was actually twelve years ago when the Inyo County Water Department first began to report that groundwater pumping in the area south of Black Rock Fish Hatchery had drawn down the water table and killed plants.  LA has never responded to repeated concerns.  DWP did say that a measurable change in vegetation had to be verified and then a determination of the cause.  After that LA said officials would have to find significant damage and how to mitigate it.  Last April, Inyo Water Director Bob Harrington had said, "It's a big challenge to get DWP to recognize an impact."