Tuesday morning, members of the Mammoth Lakes Town Council and Recreation Commission officially broke ground on the Trails End Park Completion project.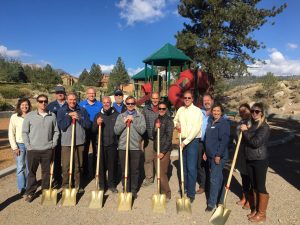 On August 17, Town Council unanimously approved the final funding required to complete Trails End Park. Town staff and the Recreation Commission have been working diligently for over six years to complete this wonderful community asset located adjacent to the world-renowned Volcom Brothers Skate Park.
This $190,000 project includes the installation of red concrete around the playground structure, complimented by two new shade structures and picnic tables. A new 24'x24' pavilion will be installed on a concrete slab that includes a concrete walkway, steps, railings, display case, recycling and trash containers, and 4 picnic tables – one fully ADA accessible table. This project is scheduled to be completed in late October.
The Town would like to recognize Mammoth Lakes Recreation for their commitment to complete this Measure R project for the benefit of the entire community. This is another example of Measure R at work and the shared vision to transform Mammoth Lakes into the best alpine recreation community in the country.
trails-end-park-completion-project-overview