The Town of Mammoth Lakes will be conducting a groundbreaking ceremony for the new Community Recreation Center (CRC) at 3:00 p.m. on Wednesday, April 21, at Mammoth Creek Park.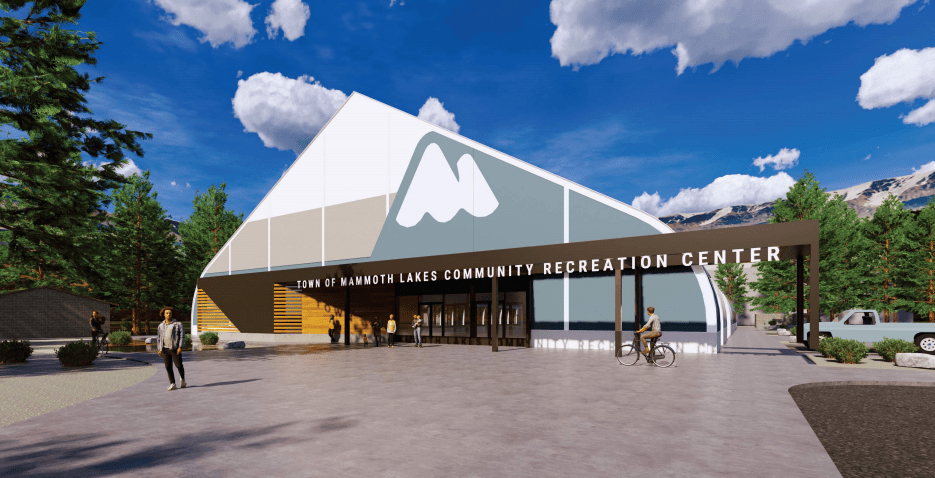 Members of the Mammoth Lakes Town Council, the Planning and Economic Development Commission (PEDC), the Recreation Commission, and Town staff will be adhering to COVID-19 California Department of Public Health (CDPH) gathering mitigation measures during the ceremony.
"I am extremely passionate about the value, benefits and affordability of community recreation, particularly for local youth. Combined with community driven and professionally branded programming, the new Community Recreation Center will be a game-changer for both residents and visitors of Mammoth Lakes," commented Mayor Bill Sauser.
On February 17, 2021 Town Council awarded the $8,884,008 contract to Hamel Contracting Inc., to build the new Community Recreation Center (CRC) at Mammoth Creek Park. The project cost is $14,831,040 inclusive of a new minor mobility hub. The CRC will be a 40,300 square foot Sprung Performance Arena enclosing an Olympic size rink that will operate in the winter months. In summer, the Olympic size arena will be transformed into a fully programmable and truly multi-use 20,000 square foot RecZone offering a multitude of court sports, league play, tournaments and community events. The CRC will also be the new home for the expanding Parks and Recreation Department summer camps and programs.
This major recreation amenity also includes three complementary components: the natural play area; a 7,700 square foot, National Demonstration Site inclusive playground, and new minor-mobility hub with parking for up to 118 vehicles and direct access to Town-wide multi-use paths and free transit services.
Mammoth Creek Park Closure 
Beginning April 14, and for the duration of construction, the Mammoth Creek Park playground, restrooms and parking lot will be closed to the public. The Parks and Recreation Department will maintain public restrooms on the eastside of Mammoth Creek Park accessible from the multi-use path.
Additional Information 
Visit the new Community Recreation Center (CRC) website or contact the Parks and Recreation Department at (760) 965-3690 to learn more about this latest year-round recreation amenity for the community of Mammoth Lakes and Eastern Sierra region.