Update: Grocery Outlet in Mammoth Lakes Closed due to coronavirus yesterday, Reopened Today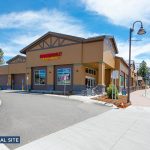 Grocery Outlet in Mammoth Lakes posted the following on its Facebook website yesterday, April 2:
Unfortunately, we had to close our store today (4/02) here in Mammoth due to one of our employees testing positive for COVID-19. The employee is at home, self Quarantine (sic) & recovering.
Out of an abundance of caution, we have closed our store until April 3 & have the rest of our staff Quarantine as well. In the interim, we have a group of employees managing the store, allowing us to ensure that the store is appropriately sanitized, our temporary employees are healthy, & that all of our shoppers continue to have a safe shopping environment.
TODAY'S UPDATE, APRIL 3: Update: will be reopening today with different staff. The store was completely sterilized yesterday.
We love this community and we are doing our best to get back up & running so we can serve & support you during this unprecedented time.