Graffiti – felony failure to respect common property? We hear more and more complaints from Inyo-Mono citizens about the tagging and the bragging of the less than law abiding who mark up public places with their signs.
All year long, the graffiti gripes have gone on. In Mammoth Lakes, Steve Searles had offered a monetary reward to turn in the graffiti guilty. Signs kept showing up.
Finally, someone tagged the new Mammoth Lakes Volcom Brothers Skatepark – a special memorial that involved the whole community. Local skateboarder and one of the highly offended, Joaquin Sahagun said he feels whoever tagged the skatepark should face legal consequences. Sahagun said the stark lack of respect for the facility bothered him the most.
In Inyo County recently, Planning Commissioner Bill Stall talked to us as a private citizen – one who is highly offended by the trail of graffiti around town.
Stall said he would like to see any graffiti CLEANED UP ASAP by the community and businesses.
In Sacramento, the same community disgust translated into political pressure and some new laws. Assembly Bill 1767 mandates community service for a person who has committed a criminal act of graffiti vandalism.
Assembly Bill 2609 requires defendants convicted of graffiti to clean up or repair the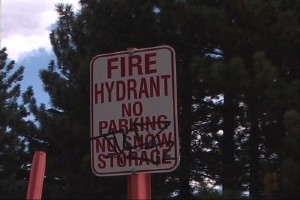 defaced or damaged property, and, in some cases, keep it that way for a year.
Governor Schwarzenegger said these tougher laws will help "make our streets and neighborhoods a safer and cleaner place to live."