A new ski season and some thoughts from Mammoth Mountain CEO Rusty Gregory. Cleland Hoff caught up with Rusty on the slopes after the opening of the top of the mountain on Saturday.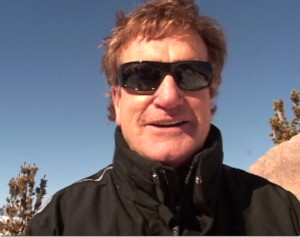 Gregory called it another great year. He said, "It's another great reminder as we stand next to Andrea Lawrence's plaque, this is Mother Nature's place. We just rent it. She gets to do it her way." Gregory explained that a lot of snow fell early on, melted quickly and now, he said, "We've got great snow-making conditions, great skiing conditions from the top down to the Main Lodge. Really good conditions for this time of year," said the CEO. "I'm having a blast."
As for the Town of Mammoth, the Mountain, the economy and changes, Gregory said things are changing. "I think the community is pulling together over downtown planning," said Gregory. "Not necessarily our plan but the community's plan which is really what we want to see."
Gregory said that the difficult economic times tend to bring people together so that they really discover their commonality, put small differences aside. "I'm actually seeing a lot of that in the community," said Gregory. "So, I'm very optimistic for the season that we have. I think our guests will return to Mammoth Mountain and to the Town in general. Last year we were in economic free-fall; and while the economy has not improved dramatically, it certainly has stabilized. I think people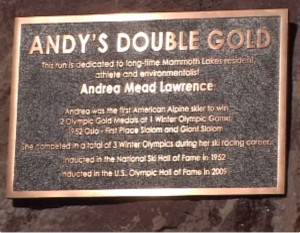 are going to want to get away from it all and come up here and have a great time."
Minutes before he shared some thoughts on the times, Gregory had dedicated what was the Far West Ski Run to Andrea Mead Lawrence. Gregory spoke to a crowd that had gathered on the run to unveil a plaque.
Andy's Double Gold Run memorializes Lawrence's amazing career as a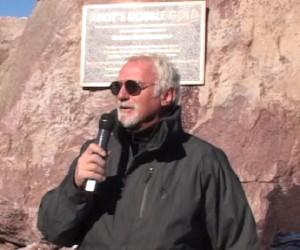 skier, with her two Olympic Gold Medals and countless dazzling ski performances. As her son, Corty Lawrence said, it was the foundation of all else she did in her life.
Gregory called Lawrence one of the worlds great skiers. He also spoke of her legacy of protecting the mountains that she loved so much.