Greg Bretz is the two-time United States Olympian snowboarder – his father has been my closest friend for over 40 years. Both are longtime residents of Mammoth Lakes.
I call the elder Bretz "Greesh" (long story, maybe later; the younger Bretz is "Bubba"), and Greesh and Melissa Ness have made the trek to the 2014 Sochi Olympics in Russia. Here's some of their story so far:
Getting there: Flew out of LAX at 3:45 p.m. Thursday on Aeroflot, 12-hour flight to Moscow – only alcohol was box wine. "Probably be good if you wanted to get a headache," Greesh said.
After a six-hour layover, about a two-and-half hour plane ride to Sochi. Greesh and Melissa are staying in Dagromys, a small village about a 20-minute train ride from Sochi.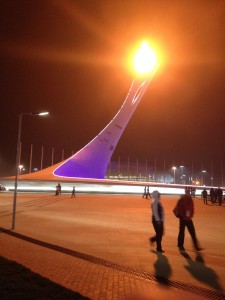 Accommodations: The horror stories from foreign journalists about brown water, no door locks, no shower curtains, etc., are a world away from the bed-and-breakfast in Dagromys. "Those places with brown water weren't even finished yet," Greesh said. "This place has been here a long time. It's nice … we've got a flat-screen TV." It's showing a George Clooney movie at 3 a.m., dubbed into Russian. I assume Melissa is enjoying Clooney more than Greesh.
The setting: "Getting down to the train station is about a 15-minute walk; it's like you're walking through an old Italian movie," Greesh said. "Down hills and streets, walked on a suspension bridge over a canal. It was cool." Also: Lots of stray dogs.
Security/safety: No worries for Greesh and Melissa at 2 a.m. on the walk from the train station back to the B&B. No visible security on the "suburban" train ride from Dagromys to Sochi train station. But once off the train in Sochi, visitors have to walk out of the train station, then walk back in and go through massive security to get back into the train station and onto the train to the Olympic Park or Village where the sporting venues are located. "Tons of security by the venues," Greesh said. "They check for explosives."
From the Sochi train station, it will be about an hour, 20-minute "Mountain Cluster" train ride to the skiing and snowboarding venues.
Time change: Sochi is 12 hours ahead of Pacific Standard Time; Greesh is going to bed about the time he would usually wake up.
Party time: The good folks at Procter & Gamble host parties at their house in a secure area. The "American" side featured Bud Light. The "Global" side had Russian beer, which is "good, very good," said Greesh.
Greg Bretz, Olympian: Greesh had not seen his son yet, but will on Sunday when practice for the half-pipe snowboarding competition begins. "For a couple of days, those guys were getting waist-deep powder runs," Greesh said of the Olympic athletes enjoying the slopes closed to the public. "Danny Davis, Gregory, they were loving it. They were doing long runs and then it ended at a 50-foot cliff." No, they didn't jump the cliff.
Next: Practice and gearing up for Tuesday's snowboarding halfpipe competition.