Greg Bretz is the two-time United States Olympian snowboarder – his father has been my closest friend for over 40 years. Both are longtime residents of Mammoth Lakes.
I call the elder Bretz "Greesh" (long story, maybe later; the younger Bretz is "Bubba"), and Greesh and Melissa Ness have made the trek to the 2014 Sochi Olympics in Russia. Here's more of their story: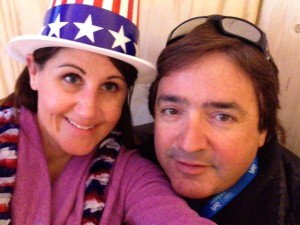 Postcard from Sochi, Part 3:
Update, Lost Near Sochi: When we last left our intrepid Olympic travelers, Greesh and Melissa had missed a train stop and were, as Greesh said, in "Deep Russia."
Things are better now. "We're on a train in Afghanistan," Greesh joked.
On the train to God Knows Where, Greesh and Melissa befriend a Russian family. One girl spoke a little English, but a young man, about 23 years old, took an interest in Greesh's Olympic  credential.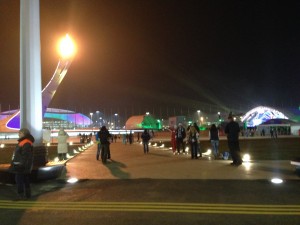 "He asked my name, told him I was the father of a USA halfpipe rider," Greesh said. "I showed him a picture of Gregory at Mammoth, and the kid was stoked. He acted like he was with a star, 'Hey, we're from America.' They were all very nice."
So nice they hooked Greesh and Melissa up with the woman who runs things around the train station, announcing all the arrivals and departures. "They were talking to her, probably saying, 'Stupid Americans, missed their stop.' "
So between of a couple of train policemen, the woman who is in charge (who later took their hands and walked them to the correct train) and a kind Russian family, Greesh and Melissa made it home at 7 a.m. Sounds like it could have been worse. "Everybody was just so nice; we were taking pictures with the family, like we were celebrities."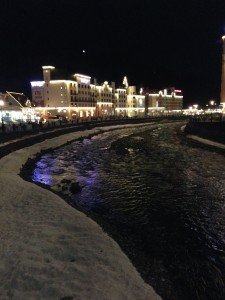 Side notes/clarification: The Russian policemen did check the "Stupid Americans" passports. Many handshakes later, bed and breakfast here we come.
The long-and-winding train ride was cool. "Again, it looked like an old, old movie," Greesh said. "Guys hanging out the windows, great curtains on the train; just felt like we going into Deep Russia."
The two train policemen made sure our Americans got off at their stop.
Also: From Part 2 – You walk down to the halfpipe when you arrive, and then walk up to leave. Sounds like a few concerts I've been to.
Security: During the train ride, Greesh noticed police all around the tracks in the middle of the night. "They were everywhere outside," Greesh said. "They're definitely a presence."
Taking the day off: That's what Greg Bretz, Olympian snowboarder, did. So did Greesh and Melissa, enjoying a leisurely day at the Olympic Park and the Procter & Gamble house. "Met lots of parents of U.S. athletes," Greesh said. "Good free food … and they had a little ceremony for Jamie Andersen (gold medalist in Women's Snowboard Slopestyle)."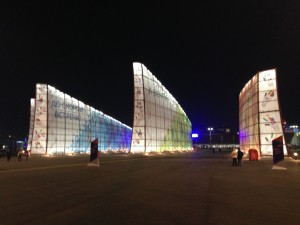 After their night-long tour of western Russia, Greesh and Melissa are treated to a "hot towel and shave" and a manicure. I'm sure Greesh's nails look lovely.
The American side of the P&G house runs out of Bud Light. Guess who brings over supplies from the Global side. "It's been a lot of fun," Greesh said.
The competition: In Postcard From Sochi Part 2, the poor condition of the halfpipe at Rosa Khutor Extreme Park was noted, and things went public earlier today in a big way with harsh criticism from U.S. snowboarder Danny Davis about the IOC and the poorly performing halfpipe making worldwide news.
"This is the pinnacle of snowboarding; this is what every snowboarder dreams of, more than the X Games," Davis told Greesh. "It's the world stage, and they give us a Tootsie Roll."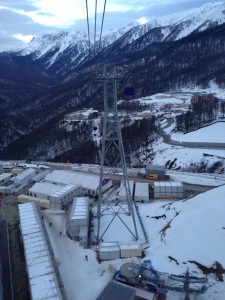 Ready to ride: The 2014 Sochi Olympics men's snowboarding competition is scheduled for Tuesday, beginning with qualifications at 2 p.m. Sochi time (12 hours ahead of Pacific Standard Time), semifinals at 7 p.m. and the finals at 9:30 p.m.
Check the website nbcsports.com for live streaming (beginning at 2 a.m. PST), with the TV package on NBC Tuesday night.
Greg Bretz, Olympian: Bubba took the day off from practicing, not because of the condition of the halfpipe, but because "that's been his M.O. this season," Greesh said. "He takes the day off before the competition. It's been working for him."
How's Bubba doing?  "I feel confident for him after talking to him today," Greesh said. "He did the media stuff, didn't practice. He said he feels pretty good, been riding pipes all year long; I don't think it will be an issue."
Young Bretz also knows to take it one trick at a time: "He said, 'I just want to qualify, Dad.' "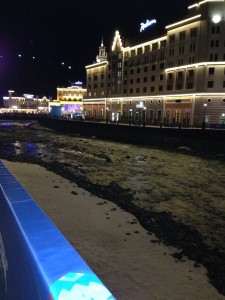 How's Greesh doing: "I'm a wreck – we toured Russia – I'm freaked out, I'm tired," Greesh said. "Melissa is holding me together with Scotch tape."
Hang on, Greeshie. You're only about halfway through your long, strange trip.
Next: To podium, or not to podium.