Greg Bretz is the two-time United States Olympian snowboarder – his father has been my closest friend for over 40 years. Both are longtime residents of Mammoth Lakes.
I call the elder Bretz "Greesh" (long story, maybe later; the younger Bretz is "Bubba"), and Greesh and Melissa Ness have made the trek to the 2014 Sochi Olympics in Russia. Here's some of their story so far:
Greesh: Postcard From Sochi, Part 2:
Tourists: It can be tough (and it gets worse): Our phone call started out with the story of Greesh and Melissa getting lost on their way back to their Bed and Breakfast. Apparently, it's dark in a strange land at 2 a.m. "Hey, there's a lot streets right here," Greesh said. "There's like 50 of them that look the same."
Sunday started off much better, Greesh and Melissa cruising the Olympic Park and hitting the Procter & Gamble house for lunch.
Mountain Cluster: The train ride to the Olympic Mountain Cluster sounds interesting. "You go straight up the mountain," Greesh said. "There's single tracks, so sometimes you have to stop." The train tops out about 45 mph (I don't what that is in kilometers per hour; when Greesh finds his way home, I'll ask.)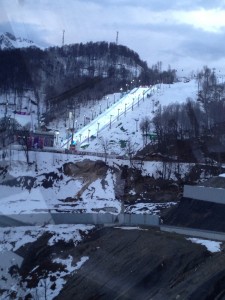 The Mountain Cluster venues are "really nice," Greesh said. "All of the new buildings, this is where you heard about the sportswriters' rooms not being finished."
Even the athletes' rooms are just getting the final touches. "Gregory and some guys were in a room, one was leaning up against a wall," Greesh said. "When he moved, his uniform was all paint."
A bonus for the last-minute construction: "Every day there's a grand opening of something new," Greesh said. "A lot of new shops."
"All that glitters is gold": Now getting to the snowboarding venues means you really want to get to the snowboarding venues. Here's Greesh:
"You get on a bus to get to the ski area, extreme park, slopestyle, halfpipe, moguls, all that. Then you get on a gondola, but then you have to go up concrete stairs – it'd be like walking up Stump Alley, about that steep and long, pretty gnarly. It's the 'Stairway to Heaven' ".
And that just gets you to the slopestyle course – it's another long walk to the halfpipe! All together, about an hour (or it could have been two hours, I was tired by then).
The good news: "In the flat areas, there's park benches where you can rest," Greesh said.
Halfpipe practice: Spectators were not allowed to sit in the grandstands, so everyone was in the "corral" at the bottom of the halfpipe. The sparse crowd consisted mostly of parents, other family, agents and media.
"No one is really 'boosting' the pipe," Greesh said, meaning no one is really going all out and getting a lot of amplitude, for us laymen.
Shaun White fell on a training run. "Danny (Davis), Gregory, Kelly (Clark), they all said the pipe is not riding well," Greesh said.
Practice runs were open until 9 p.m., but all were cleared out by 8.
Greesh and Melissa hoof it down the "Stairway to Heaven" – Bubba and the other Olympians  gondola down.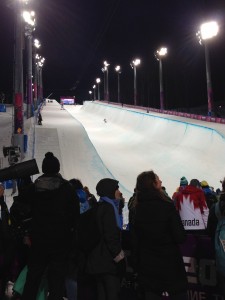 Russian cuisine?: Along with Bubba's agent Sue Izzo, Greesh and Melissa hit their first Russian restaurant, in the village of the ski area.
"Really good pasta, curry soup, shrimp, with lots of garlic," Greesh said. "All really good, reasonably priced."
The menu was in Russian and English; the waitress spoke broken English, which is better than Greesh's nothing Russian. "There was a lot of pointing," Greesh said.
Bob Todd aside: All was well after a good meal and seeing his Olympian snowboarder son. We bid good night, and a pleasant tomorrow.
Next: Uh oh. Phone call from Greesh at 4:27 a.m. Sochi time. "We missed our train trying to send you pictures." Where are you? "Deep Russia."