– Press release
The weather could not have been more beautiful on Saturday welcoming over 1,000 anglers to compete for over $10,000 in prizes at the Blake Jones Derby. Over 1,300 fish were caught with several lunkers weighing over 7lbs!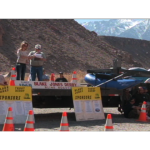 Special thanks to Bert Brown and Steve Ivy for operating the shuttle, Vicki with Inyo County Probation Department, Craig with Western Nevada Supply, Dan McElroy with the City of Bishop,
Brown's Supply for the shuttle truck and to Hal Reuter and his crew for weighing all of the fish, "We had more big fish than ever before." stated Hal Reuter, who had been weighing fish for the derby for 24 years!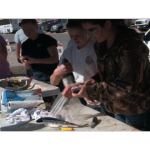 A big thanks to High Sierra Containers for the use of one of their containers and trucks. The Paiute Palace Casino who provided our main shelter with their 30×70 tent. Erick Schat's Bakkery sponsored out pontoon boat raffle worth over $1,000. Ryan Dore of "Adventure In Camping," brought one of their camping trailers out to the to Pleasant Valley for the derby, they serve over 75 campgrounds and will deliver your trailer for you. "
"Berkley has proved to be a big supporter of Eastern Sierra fishing, not to mention the Bishop Chamber events. They provided more than 60 rod and reel combos, as well as loads of tackle, bait and more," said April Leeson, Events Coordinator for the Bishop Chamber.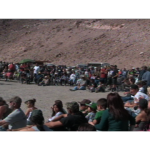 The secret "Blind Bogey" fish weighed in at 10 ounces, with many anglers in that category competing for the blind bogey prizes.  Berkley, Paiute Palace Casino, Turner's Outdoors, Culver's Sporting Goods, Reagan's Sporting Goods, Macs, Home Lumber and the City of Bishop donated the grand prizes in all categories while many other generous sponsors offered prizes in the more than 40 categories of prizes that were given away! This year we raffled a Dave Scadden Pontoon boat worth over $1,000 generously donated by Northfork Outfitters and Erick Schat's Bakery.
A Special Thanks To All of Our Amazing Sponsors!
BLIND BOGEY GRAND PRIZE: 1st Place Winner David Motley of Bishop, won a package which included a float tube from Reagan's Sporting Goods, and great gear from Culver's Sporting Goods, Berkley, Meadow Farms Smokehouse and Kmart!
 BIG FISH PRIZES: Winners:  Luke Knight of Newbury Park, CA caught a fish weighing 9lbs 3oz!! He won lots of fishing merchandise! Dave Guzz, of Orange, CA caught a trout weighing in at 8lbs 12oz! Craig Ruzicka of Simi Valley, Ca caught an 8lb 4oz trout!
KIDS' PRIZES: 1st Place Winner: Troy Erickson of Bishop won a fishing pkg. from Berkley, Culver's Sporting Goods, Mac's Sporting Goods, Bishop Country Club, Regan's Sporting Goods , Meadow Farms Smokehouse, Main St Trading Co and McDonald's.
Other Winners:
Winner  Donnie Fimbres of Bishop, CA
Winner: Isabella Chavez of Anaheim CA
Winner Eric Morris of CA
Winner: Cheyenne Montoya of Bishop, CA
Winner: Cynthia Gonzales of Bishop, CA
Winner:  Liam Hentz of Texas
Winner:  Violet Acosta of CA
Winner:  River Watterson of Bishop
Pontoon Boat Raffle  Winner: Angie and Wally Eddie of Bishop won a Dave Scadden pontoon boat worth over $1,000.00!