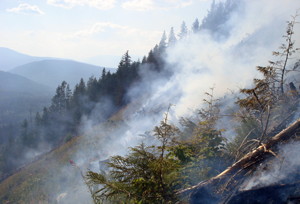 With extensive protocols to control wind-blown dust off the Owens Lake, Great Basin Unified
Air Pollution Control District's attention, and monitors, are now turned toward tracking
wildland fire smoke impacts across Inyo, Mono and Alpine counties.
So far this fire season, which now is pretty much 12 months out of the year, those impacts have been relatively insignificant on the Eastside, but Great Basin staff made the rounds of recent meetings to update locals on procedures.
Both the intensity and number of wildland fires have increased over the last five years. That
was the message delivered by GBUAPCD's Air Pollution Control Officer Phill Kiddoo and Sr.
Research Systems Analyst Kim Mitchell. Twelve of the largest 20 wildland fires and eight of the
top 10 have occurred over just the last five years. According to statistics, there were only 200
"good" days in all of 2020. In retrospect, it's hard to remember seeing the mountain crests on
either side of the Owens Valley through the summer of 2020.
Directives from the Environmental Protection Agency included a notification system, initially
designed for wind events sending particulate matter off the dry lake. That system, dialed down
to PM2.5, includes mobile monitors that detect wood smoke wafting through the three Eastern
Sierra counties. A permanent monitor is placed on the roof of the Rite Aid in Mammoth. The
District has five portable emergency monitors that can be strategically placed when and where
needed.
Kiddoo and Mitchell's message to Eastside residents—check Great Basin's website
(https://gbuapcd.org) for health advisories and respond accordingly. While swamp coolers are
ideal for hot, dry climates, they're not ideal during smoke events. The solution is to use air
filters or create clean air rooms with no direct access to contaminated exterior air. Mono
County's solution was the purchase of an indoor air filter system for community centers so
those centers could be used as clean air shelters during a fire/smoke event.