Everyone is invited to attend a potluck dinner to honor and say good-bye to long time Independence residents Perry and Sally White which will be held this Saturday July 18th from 5 pm to 7 pm at the Owens Valley School's multipurpose room in Independence.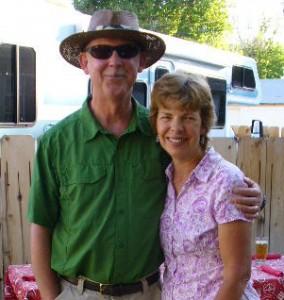 Sally and Perry have lived in Independence for over 25 years and have been fixtures in the Independence community. They will be sorely missed. Perry has been the pastor at the Sierra Baptist Church and president of the Independence Lions Club.
Sally has spearheaded the Independence Christmas bazaar for many years, has been the postal carrier for the Independence area and both Sally and Perry have been an integral part in almost every civic and social event in Independence from running the local food bank to helping organize the Independence community Thanksgiving dinner.
Perry and Sally will be moving to the Banning area to start a new adventure in their lives. The vacuum created by their departure will be difficult to fill and they will both be greatly missed by their friends and neighbors.
Please join us this Saturday to share your memories and best wishes. The potluck dinner will feature pot roast, mashed potatoes, a vegetarian entrée and lemonade. Feel free to bring your own side dish. Plates and cutlery also provided. For more information you can call David at (760) 920-8061.