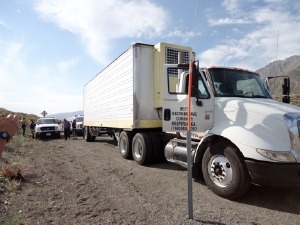 Two Adults Arrested For Child Endangerment
On Friday July 13, 2012 at approximately 0820 hours, the California Highway Patrol (CHP) dispatch center notified the Mono County Sheriff's Department of a possible child abduction that just occurred in the Bishop area.  A caller told the CHP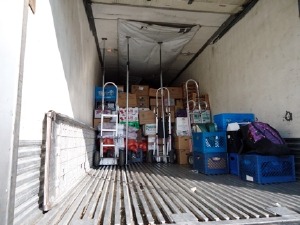 that two white males just placed a young female juvenile into the cargo area of a tractor trailer and proceeded northbound on Highway 395.
Mono County deputies located the semi-truck on Highway 395 near Benton Crossing Road and conducted a traffic stop on it.  The deputies searched the locked refrigerated cargo trailer and located an eleven year old female hiding amongst the loose cargo.
During the investigation it was determined that Mr. George Lewis Arciero age 52 a resident of Apple Valley Ca. had taken his granddaughter to work with him for the day (the granddaughter was the juvenile located in the locked refrigerated cargo trailer).
While in Bishop Mr. Arciero picked up a Mr. Jason Ray Jernigan age 33 a resident of Bishop, at which time they placed the female juvenile into the refrigerated cargo trailer and locked it prior to proceeding northbound out of the Bishop area.
Both Mr. Arciero and Mr. Jernigan were placed under arrest for child endangerment, and transported and booked into the Mono County Jail without incident.  The case will be forwarded to the Mono County District Attorney's office.  The juvenile was released to Mono County Child Protective Services who will reunite the juvenile with her moth