By Deb Murphy
The new engine bay is complete and the Big Pine Volunteer Fire Department will celebrate with a Grand Opening party on Saturday, March 28.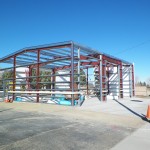 The department is very much the heart of the community that has watched construction on the 2,000 square foot structure over for the last three months. The metal building with river-rock siding was a necessity to house the department's 10-foot fire engines. The older bay's doors were only 8-feet tall, leaving the equipment out in the cold.
The Grand Opening starts at 3 p.m. with dinner, burgers, hot dogs and sides, served up at 4 p.m. There will be live music from Rearview Mirror as well as the reveal of building and memorial plaques and a new station fire.